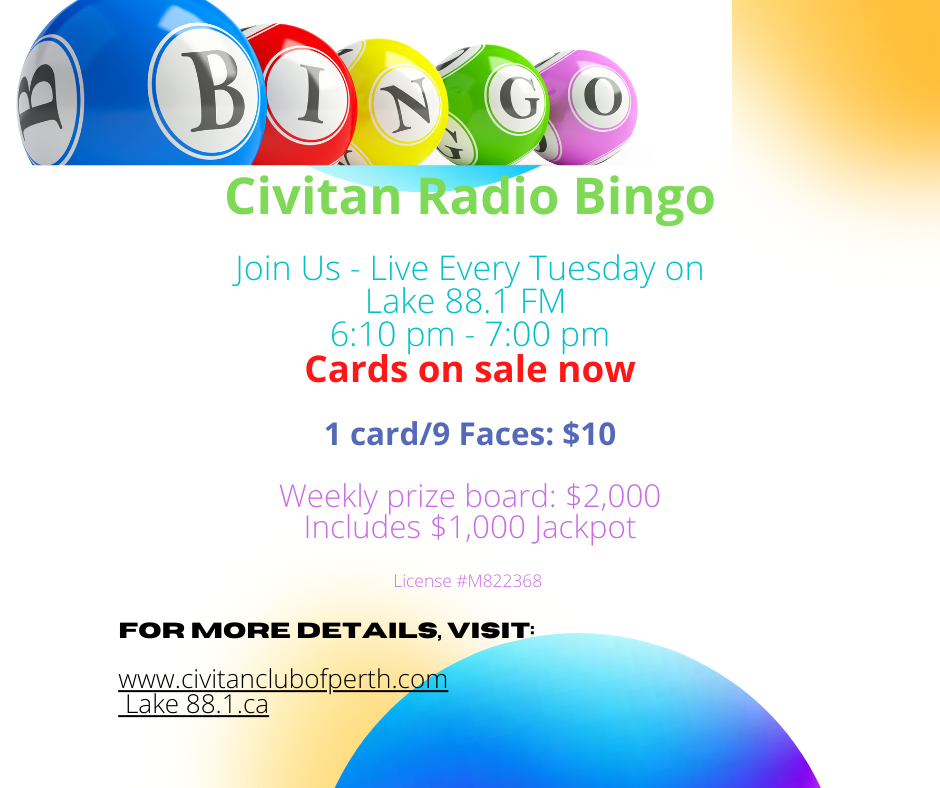 Civitan Radio Bingo Sponsored by Civitan Clubs of Perth, Carleton Place, Smiths Falls, Lanark
1 card / 9 faces: $10 each
Cards are now on sale
TUESDAYS at 6:10pm on Lake 88.1 FM
Starts Tuesday, June 1, 2021
All games will be played on the same card (s) ​
Game 1 – One Line or 4 Corners for a prize of $300
Game 2 – Two Full Lines for a prize of $500 (on the same card – 4 corners do not count on two line bingo)
Game 3 – Full Card for a prize of $1,000
Game 4 – Runner up for full card gets a prize of $200 (next number called)
Rules
Successful bingo winners must call 1-613-264-8811.
Once a bingo is declared closed, no other bingo can be claimed for that game.
All bingos will be verified. Each card contains a different serial number located in the free space in the center of the card and on the bottom right. This number is matched by a number in the radio bingo computer program and is used to verify that a card being played is a winning card on that game.
You MUST hand in the entire card when you collect your prize and bring photo ID. All cards must bear winner's name, address and phone number (print on the back of the card).
Prizes will be shared between the number of winners for each bingo.
All players must be 18 years of age.
Lake 88.1 or Civitan Clubs will NOT provide refunds on purchased cards.
​License # M822368
Prize Pick Up Prizes can be picked up by appointment ONLY
To make an appointment to pick up your prize, contact the Civitan representative in your town: ​
Perth: cooneyg@sympatico.ca or call 613-799-8238
Carleton Place: lyn.don@sympatico.ca or call 613-257-5214
Smiths Falls: debbiecaroldixon@gmail.com or call 613-285-4452
Lanark Civitan Club: Bking@caleres.com or call 613-267-6670 ​ ​
NOTE: In the event of a power outage or other technical failure at the Lake 88.1 studio, that night's game will be suspended until the following week and continued on the same cards from the last ball drawn. Lake 88.1 is not responsible for local power outages, technical failures at player's location or interruptions to internet broadcasts and recommends players have a battery powered or alternate radio source available.
Pick up your bingo cards at the following locations after May 25th
Lanark
Fitz's Fries, 38 George Street
Highlands Country Store, 5639 McDonalds Corners Road, McDonalds Corners
Lanark Pharmacy -74 George St
Ultramar – Hwy 511
B&T's Hopetown General Store – 5531 Hwy 11
Perth
MacEwen/County Line Perth, 11 Wilson street
Donaldson Shell, 230 Gore Street
Circle K- one location only, 139 Gore Street East
Carleton Place
Apple Cheeks, 53 Bridge St.
Temptation, 117 Bridge St.
Mitchell's Your Independent Grocer, 455 McNeely
Franktown Gas and Grocers, 9645 Hwy 15
Smiths Falls
Andress Your Independent Grocer, 25 Ferrara Dr,
Giant Tiger, 29 Chambers St.
The Garden Market, 115 William St.
Scott's Convenience, 99 Beckwith St.